Those who are affected by this guy, do contact me personally.
This is not something new. This is something I've always heard, and I personally know many people who abuse their position or power to gain something. I've a wide range of readers here who are studying abroad and locally, who had been sexually abused or been taken advantage of while they're in college or university. Some of them had spoken to me, all of them girls. I really could not write about it since it lacked solid evidence, but today I received an important piece of information about a sex maniac who had been probably going on a rampage for many years.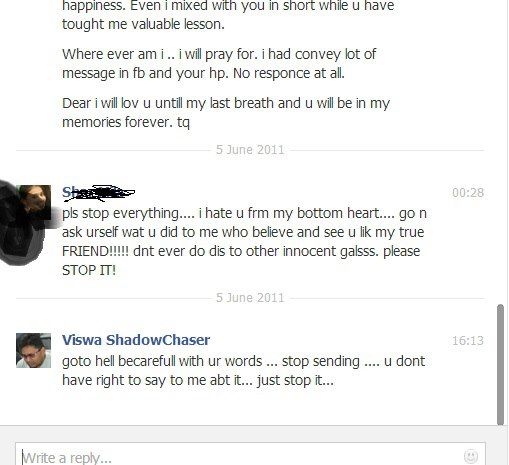 I recall a story told by a close relative who's studying for medicine in Russia, where the senior doctors would actually demand that you sleep with them to pass your examinations. No doubt, many girls would eventually succumb to their demands thinking that there would not be any other choice. Some Meenachis who had never passed their exam will opt to spread out, of course; it's the easiest way.
The case of Dhamini had just died down, and today another maniac had been discovered. I was shocked when I went through the screenshots of a particular lecturer from Olympia College, Malaysia who had not only abused his position as a lecturer to get some pussies, but also helped creating fake certificates to gain some extra money. A married guy, he has targeted young girls who are naive and new.
It is scary to think that you've been sending your sisters and daughters to colleges like this, where even the lecturers are pussy hunters. This particularly well educated gentleman below might look innocent, but this mangoosteen thalayen is a sex maniac on a rampage.
I've decided to exclude the image until any victims comes forward, check out the whole screenshots here:  https://www.facebook.com/photo.php?fbid=396708810413453&set=pb.391666314251036.-2207520000.1357107707&type=3&theater
Many of you are girls who are still in college, when you have a lecturer flirting with you or when you feel something is not right with the way someone is behaving with you, inform your brothers or father. Don't keep it to yourself. And don't layan this type of bastards. If you need to complete your assignments, fucking do it yourselves. Your parents are sending you to study and to get good results, all through your own effort. It is not worth it to sell your dignity for mere assignments.
Though it's uncertain how many girls might have been ripped off by this guy, it is obvious that he has targeted all the girls, particularly the thengga ones with names like Honey and Princess. The guy had taken advantage of some Meenachi's stupidity.
Perfect example below, want to cook kadevare curry for mama it seems. Serepaleh adikenum.
At the end of the day, it is important for you girls to be wise and alert.