I try out everything during my travels, it's part of the experience. Please don't try to be a moral police. What is pet for you would be meat in another country, vice-versa, what is meat for you would be pet in another country.
It's been a month since I've come to Indonesia, and today would be the last day .During this one month of living out of the bag, it has taught me a lot of things. My street skills has improved tremendously, I know how to adapt to a situation and I've learned tons of things about how people live deep inside the villages in Indonesia. It will not be an exaggeration to say that Indonesia had been one of the best country that I've backpacked so far, an experience you would only get in countries like India.
In all my travels, one thing that I've always looked forward to try is street foods. Another one would be to experience living just like how the locals live, and doing things just like what the locals do. Both of which you would be able to do it abundantly in Indonesia. I must admit that this blog had contributed immensely in connecting me with students from all over Indonesia, a thing I did not realize until I came to this country.
I kept in touch with many students, though I couldn't visit them all, but all of them had been absolutely brilliant, inviting me to stay with them.
From Danau Toba to PematangSiantar right up to Sidamanik, I experienced a lot of things that I would cherish for life. I met many wonderful souls who guided and helped me along the way, and saw many breathtaking sceneries.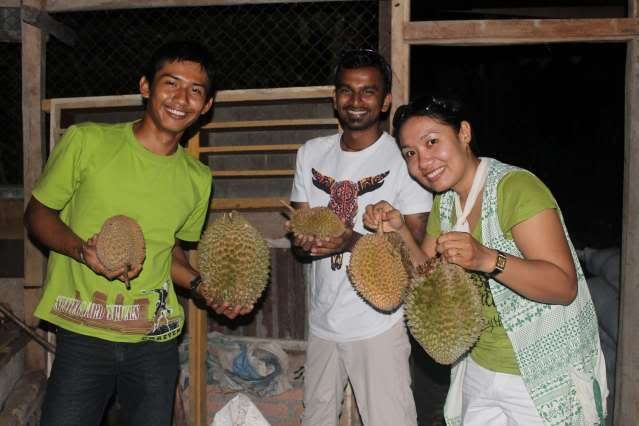 Below are some of the most exotic meats that I've tasted so far in Indonesia, which I think worth sharing. I've eaten hundreds of street foods since coming to Indonesia, but below are the ones which tops the list.
1.Babi Panggang /Babi Kicap

Pork meat is one of the most famous meat that is consumed by the Batak community in Medan, and I have to say they consume more pork than chicken here. Every meal is usually companied with pork.
2. Kerang Rebus(Giant)

I've to say these are not ordinary kerang that we normally see in Malaysia. These are huge ones that is also normally served with tuak or the local todi.
3. Tuak

The local tuak is divided into a few types , and I think I tried them all. In four occasions I tried out tuak, and all of them were totally different from one another. Some were tasting very sweet, some were tasting very bitter. Indonesians like the bitter ones, just like beer.
4. Fried Eel with Cabe

I've tried eel before, but this was something quite different. It was accompanied with some sambal which made the whole thing different. The eel was fried until it is crunchy and the sambal would be poured on top of it.
5. Pik-Bak (Labi Labi)

A type of tortoise, this is a type of medicine food. It taste very jellyish and it seems people over here eat it for health. The meat taste was good, the soup would taste like medicine though.
6. Fried Snake

I've tried snake in other countries, but what I like about here is the sauce that accompanies it. It combines well with the meat, and the meat is very tender. Snake meat is one of the best meat always.
7. Last but not least, of course dog meat. I really didn't want to test this, but fuck it, since I had the opportunity, I went ahead. For real, the meat was not really tasting good. You have to continuously chew it for a long time, but the meat would not rip out apart. It will still be the same, like chewing gum. You have to swallow it just like that. The sauce that accompanies it is made from dog blood.
That marks the end of my backpacking trip in Indonesia.
Selamat Tinggal Indonesia and Sawadikap Thailand…