I wish Indians would be awake in this country. I wish Malaysians would be awake in this country. I wish all of us will be awake and fight together for the betterment of each other. With the number of my brothers and sisters going down the drain as gang members and criminals, I see no hope in near future.
Trust me, I've been getting uncountable amount of stories and cases from people who wanted to relate their experience of being robbed or snatched. Almost all the time, the doers are Indians. Horrifying stories about people getting slashed and wounded are being send to me, so that I can write about it.Machas nowadays are displaying their weapons publicly in Facebook, displaying their level of macho and daringness when it comes to inflicting violence to others. When I went through some pictures in CMM, I was surprised with the amount of things that has been happening.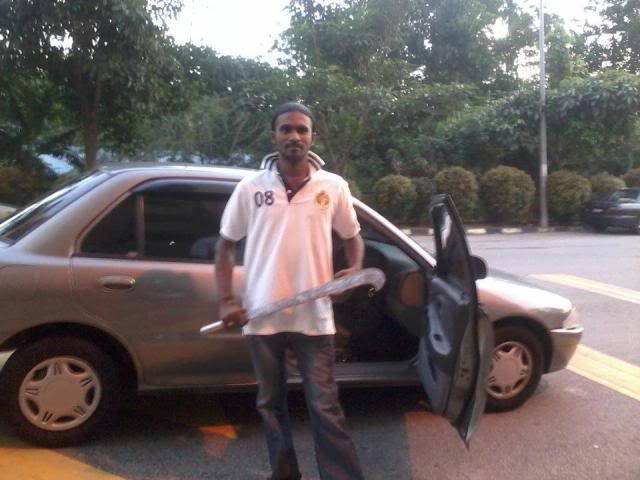 Not like that I'm not aware, just that I stopped focusing on it and looks like it has grown out to be an unstoppable virus among Indian youths nowadays. My 61 year old uncle forgot to lock his door when 5 armed Machas went inside the house and started slashing him. He was further brought to the 2nd floor of his house, where my sister and his wife quickly closed the door. They threatened to harm my uncle further and when my sister opened the door, they carted away everything.
Robbery and rape is so rampant now that I've to remind my family members to be very careful every single day, especially my girlfriend and sisters. While talking about the robberies would not bring any benefit,I just want to post up some reminders that you should be aware of to keep yourself safe.
Pavadaikul Papathi
If you own a store or grocery shop, beware of this type of aunties. There are many cases of these happening in Malaysia nowadays, where a brilliant technique of hiding cartons of beers , CPU's or any other things are done by hiding them under Pavadai. Though they might be harmless, they can cost huge amount of lost for you overtime.
Clubs/Pubs/Discos Late Night Outings.
Girls, most of you don't need to be away until late night. Don't get carried away while in clubs and get drunk till you reach the state of enlightenment. Be aware of your surroundings and if you're in a shopping complex, make sure you're accompanied by some of your male friends while going to the car park or any secluded places. While walking on the road, don't flash your jewelries or any other things that can make you a target. Carry pepper sprays, learn some martial arts or better still get home before dark.
Though no matter what time it is, always be alert of your surroundings, even if you're walking to the grocery shop in front of your house.
Keep it locked
Don't ever let the gate in front of your house to be open. ALWAYS, and ALWAYS make sure it is locked. Never risk this, if you open your gate, scan through the front of your house and make sure it is safe. If you see any Machas lingering around suspiciously, close the door and get in quickly. It is all right to be paranoid about this, it will make sure you're safe. Tell all your family members to do the same, a few seconds of carelessness would bring tragedy to you.
Weddings/Birthdays Event 
Those who have weddings or birthday events should be very careful. Wedding houses is the primary target for any robbers, they can cart away big amount of money since all of your aunties would be wearing kilos of jewelries. Get your friends, Machas and everyone else in your neighborhood to be on standby throughout the night, feed them with some Carlsberg if need be.
There are many more things you can do to keep you and your family safe, all it takes is to be aware and alert all the time. Don't think it can never happen to you, it can; it's just a matter of time and luck.