UPDATE 16/4/2013 11.00 PM
Look at the comments from MIC leaders. I don't know what else to say la..All Indians please shut up, pakai kaili dan duduk rumah.
——————————————————————————————
The first thing I saw when I opened my laptop today was the Boston bombing. Without a doubt, I immediately concluded this might be just another attack against America in the name of religion. People are rather willing to detonate in the name of religion rather than unite.Sad.
It's election time in Malaysia, and while the country is expecting to see capable and qualified candidates to lead the people, it is not going to happen.
Yet again.
I really don't feel like discussing MIC list of winnable candidates; it's entirely hopeless. I will agree that MIC had made some strategical moves, including moving their President all the way up the Cameron hill to contest there. Utta Palani sar eh Palani malaike ethirvangge…
PARLIAMENT
P62 Sungai Siput S.K. Devamany
P72 Tapah M. Saravanan
P78 Cameron Highlands G. Palanivel
P94 Hulu Selangor P. Kamalanathan
P107 Subang A.Prakash rao
P109 Kapar A.Saktivel
P111 Kota Raja S.Murugesan
P132 Telok Kemang V.S. Mogan
P140 Segamat Dr. S. Subramaniam

STATE SEATS
P14-N25 Bukit Selambau ML. Maran
P17-N34 Lunas S. Ananthan
P43-N9 Bagan Dalam Karupanan
P46-N16 Perai L. Krishnan
P75-N54 Hutan Melintang R.Supramaniam
P66-N31 Jelapang S.Mokan
P65-N30 Buntong C.Sivaraj
P89-N35 Sabai R.Goonasegaran
P96-N11 Ijok K .Partiban
P98-N16 Batu Caves N.Rawisandaran
P111-N49 Seri Andalas T.Mohan
P127-N7 Jeram Padang L.Manikam
P132-N33 Port Dickson Dr Thanalakshmy
P158-N41 Puteri Wangsa Surianarayanan Muniandy
P144-N9 Gambir M.Asojan
P153-N31 Kahang Vidyanathan
P154-N33 Tenggaroh K.Ravin kumar
P135-N7 Gadek MS. Mahadevan
Apart from YB Kamalanathan and Dato Palani, I don't see any winnable candidates there. I don't really know how candidates are picked, but for sometime the name of Mohana Muniandy had been popping up in Kota Raja and Sri Andalas area. She was involved directly with a lot of community activities happening in Klang area, and had been working on the ground on social issues even before the election hype.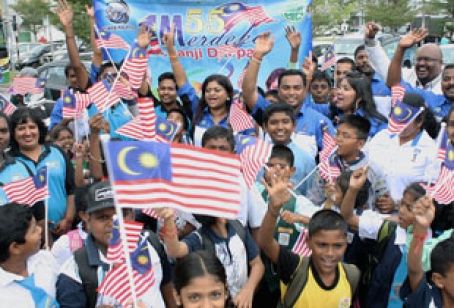 She also happens to be MIC social and welfare bureau chief, and without doubt she has gained some support in this area. But instead of placing someone who had already made a name here, they've decided to parachute in T.Mohan. It's the same with PKR, instead of immediately announcing Semenyih for Arutchelvan PSM, they've decided to bring in I-don't-know-who.
And then…
And then came a shocking news, Zulkifli Noordin is the candidate for Shah Alam. WHAT THE FUCK is wrong with you Mr. PM? How can a low-life racist scumbag like Zulkifli be a candidate to represent the rakyat? BN racist ideologies and selective prosecution is so evident in this case, where despite 10's of police reports against Zulkifili; no action was taken. This was of course obvious, PM Najib would have probably ordered no action taken because Zulkifli is going to be part of his team.
Where will MIC, PPP, Parti Makkal Sakthi and IPF keep their face now? Ridhuan Tee, Ibrahim Ali, and Shah Kirit are some fine examples of people that should have been behind bars right now. I'm seriously pissed on how powerless we're at the moment, everything is controlled by BN. They prosecute who they want, they're above the law. I won't deny that MIC was actively involved in going against Zulkifli, but you can clearly see MIC is a rejected voice in Barisan Nasional. Hopeless,useless, powerless, and entirely boneless.
Some MIC fellows were saying that panadei Zulkifli Noordin was a PAS guy, when he uttered those words 10 years back. Watch the clip below then, this is the latest…
This guy is guilty in my eyes, but of course BN will protect him . But to pick him as a candidate for a parliament seat is like insulting our intelligence, and clearly shows the ego and arrogance of PM Najib that he is all powerful.
Please throw the concept of SutuMalaysia down the drain. I've had enough.