On November 25 2007, Subramaniam woke up very early in the morning. There is a new beginning for the Indian's in Malaysia. Years of oppression, suppression and careful marginalization will finally have some answers, or so they said. For the first time since Reformasi period, he will be in the streets again. With his bulging beer belly and at the age of 55, he was determined to make his presence.
The new leaders are God sent for Indians in this country. This is a revolution, or so he thought. By the time he was there, thousands of Indians had already congested the city center, heeding the call of their new leaders, the Hindraf 5. The rest was history. Tear gassed, smoked, water cannoned , arrested, beaten and humiliated. Yet they stood firm. They stood for a cause. Without a doubt , that was the turning point for Indians in Malaysia.
Thousands of Malaysian Indians were there on that day, all of them were hardcore supporters of a cause. I was a young Macha who cared little about Malaysia at that time, but my friends were not the same. They all took the beatings in the streets. They all nearly died for their cause.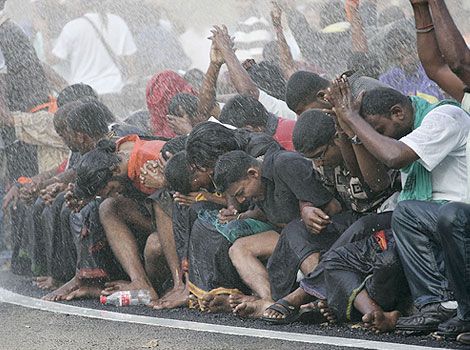 6 years later, Hindraf is broken into so many pieces that even the supporters are confused which one is the original Hindraf. Though separated, their cause remained the same. Reject BN for the continuous marginalization of the Indians in this country. I was beyond shocked when I heard that Hindraf self-claimed chairman Mr. Waythamoorthy decided to set a deal with our ex prime minister, Najib.  Those who stood there getting the beatings during the rally had been betrayed. Their cause had been betrayed. My father, Mr. Subramaniam had been betrayed.
This is Bro Arivu, a young revolutionist who had been fighting for various cause since his young age. A good friend of mine, I admire his courage and determination.  Can you see his 'cries'?
I can list down many hardcore Hindraf supporters who had fought with their blood and sweat during Hindraf uprising. All of them had been betrayed. Najib, with his powers, could have signed the memorandums and accepted the demands earlier if he wanted to, but he did not do that. The reasons are obvious, he knew he can't do shit for Indians.If he can place a shithole like Zulkifli in Shah Alam, and carefully plan so that Katak Ibrahim the hardcore Malay racist can have a direct fight as an independent candidate, God knows what else he can do. Remember that it is not his obligation to fulfil Hindraf request if he wins the election.
Why DS Anwar Ibrahim did not really entertain Hindraf blueprint? Because his cause was right, and I'm fully supportive of it. It is only because our Indians kids are marginalized that we see we're occupying 60% in prison at the moment. What is the point of only uplifting Indians? Why not uplift Malaysians as a whole? Will you be satisfied to see Malay or Chinese kids to rot in prison in the future? Let's grow up as Malaysians at last, enough of this racial separation created by UMNO/BN. Anwar Ibrahim wants us to grow up as Malaysians.
Finally, even Hindraf had been bought. It shows how arrogant BN is, with the millions of dollars they're spending for medias to desperately cling on to power and the denial of Bersih demands of clean election, they're embarking into dirty tricks all the way.
All remaining supporters of Waythamoorty's personal agenda should think of this, you carry the pain that your grandfathers and father had endured all this while, they never had the chance to live and see things the way you're seeing now. Who is ever going to repay their struggle? Who should pay the price?
UMNO/BN has humiliated, jailed, spat on you, called you terrorist and linked you with LTTE, fucked up your generations for decades , called you keling and humiliated your religion, denied proper education to your kids,treated you like second class citizens; how can you forgive such a sin you shameless idiots?
If someone is going to shit on your plate;say sorry and then proceed to put some rice on it, will you eat it? Why do you want to eat in a plate tainted with shit when someone is willing to give you a new plate? Ille athe thine than ungge buthi povum ne sonna, carry on.
Our dignity, sold out successfully.