So, finally our minority Prime Minister who has some 70% fake followers in his Twitter account had come up with his 'transformational cabinet'. The lack of Chinese in the cabinet was expected, but there was a lot of surprise this time around, the biggest of all; the inclusion of Waythamoorthy in the line up.
You know , to be honest; I will never say that all BN fellows are bad. For an example, the appointment of P. Kamalanathan is well worth it, and to put him as Deputy Education Minister is applaudable. I personally think he is a hardworking and clean guy, forget about the 'kissing' incident, it doesn't make sense to rate him down just for that.
Next comes, Saifuddin Abdullah. In my humble opinion, he is the only UMNO minister I would respect to date. Outspoken, intelligent and talks with sense and style. He should have been in the cabinet, appointed through backdoor pun tak  kisah.  S.K Devamany, the popular man who had enormous support in Cameron Highlands for decades had to sacrifice his seat for G.Palanivel. He was made a scapegoat, but then, for all the hard work all these years, he was left in the lurch.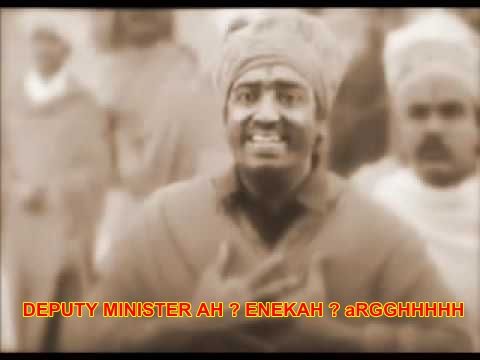 From where did Waythamoorty come from? He did not even stand in the election. It is interesting to see that someone from Hindraf like Waythamoorty is given such a position which also must be a major hit for MIC, the Indian saviors'.
It clearly shows that Najib has no faith in MIC anymore, and knows that he needs Waythamoorty's duplicate Dandruff team to gain back the support of Indian community. But the question is, if Najib really wants to help the Indians, why do we need Hindraf in the cabinet even?
Isn't it the job of MIC to ensure our needs are fulfilled? Isn't that what MIC had been trumpeting all these while? That only they can represent Indians in Malaysia?
I foresee clash, and I see Dandruff team fast replacing MIC in being the new mandore. You see, if Najib is going to help the Indians finally, wouldn't that be a disgrace to MIC? MIC had ruled over for 60 plus years yet we Indians had not progressed much; but if Waythamoorty is going to come in and Najib is going to listen to Waytha; and if Waytha finally succeeded in bringing some changes, that means MIC had clearly been fucking around with us, isn't it?
How could Waytha bring in changes so quickly which MIC couldn't do over the past 6 decades? Would MIC even allow it? This is where it is going to be interesting. Or will MIC shamelessly as usual claim credit for what Dandruff team has done? Either way, let's see what type of stick they're going to use to fuck the Indians this time.