This is a very sensitive topic, discuss maturely. Don't carry your parang.
'Apa Lagi Cina Mahu?'
..was the headline of Utusan Malaysia, a newspaper cum toilet paper owned by BN/UMNO a day after the election. Of course, it was expected. The moment they are in power again, UMNO had started their racial politics and scare tactics. We've grown up in Malaysia carefully separated by the ideology that somehow we're all different. We study side by side with another Malaysian yet we have to identify ourselves as Indians, Chinese and the Malays.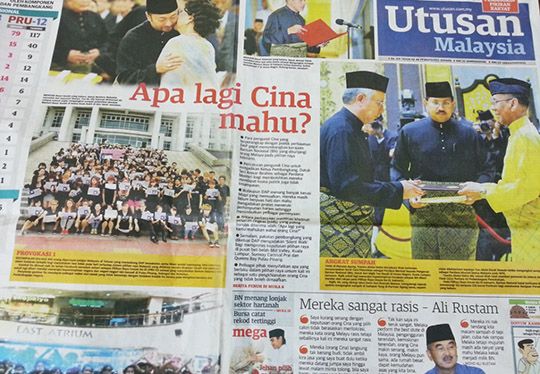 The funniest thing about Malaysia is the people who are linked to the Government spew so much shit onto the people yet none of them get arrested or even get warned.  When Najib was asked to comment about the headline of Utusan, he rebutted saying that the Chinese papers is equally wrong as well. That means Najib is encouraging such articles in our mainstream medias , isn't it? Hypocrites who will go down to do anything including playing drums and dressing up like a Chinese to beg votes, yet when he is rejected, he shows up his true color.
The moment you question them though, you will be told to fucking get lost.
The day after our Home Minister came into power, Dato Zahid issued a statement that people who are not satisfied with our system should migrate to other countries. What kind of Home Minister will actually issue a statement asking us to get out of OUR 'home' just because we're not satisfied with the system? The people who call the non-Malays as pendatangs are fucking stupid. We're not pendatangs. We're as Malaysian as you're, fucking come out of your tempurung. Extremist like Ibrahim Ali, Zulkifli Noordin, and Syah Kirit with the mentality of a retard had issued numerous talks insulting religion and race in the past. None of them were charged DESPITE multiple police reports.
Race and religion had always been the power card of the current Government. Whenever the non-Muslims were insulted, hardly any action is taken. Only the liberal Malays had stood up for us. If you remember, there was an uproar about Zakir Naik last year, another extremist from India who was allowed in this country to give a speech. Zakir Naik discusses comparative religion, basically he downgrades and insults another religion just like what our local scumbag Shah Kirit and Zulkifli Noordin did but escaped unscathed. Why the fuck do you want to discuss and compare religions? Will any Muslims tolerate their religion being scrutinized and laughed at behind close doors?
These ideologies is bred directly from the schooling days, with BN penetrating inside schools and inserting their political propagandas inside our history and exercise books. It is no better in public universities and colleges. Young minds are molded to think like Ibrahim Ali who challenged to burn the Bible.
Look at the below banner, this is totally ridiculous. Why have such a talk? Why spoil the mind of young Muslims with this kind of talks? Why do you discuss the weakness of a religion when you can discuss so many other things? What benefit will it bring to our society other than hatred and racism? Why invite someone to spew hatred when you can invite someone to spread love?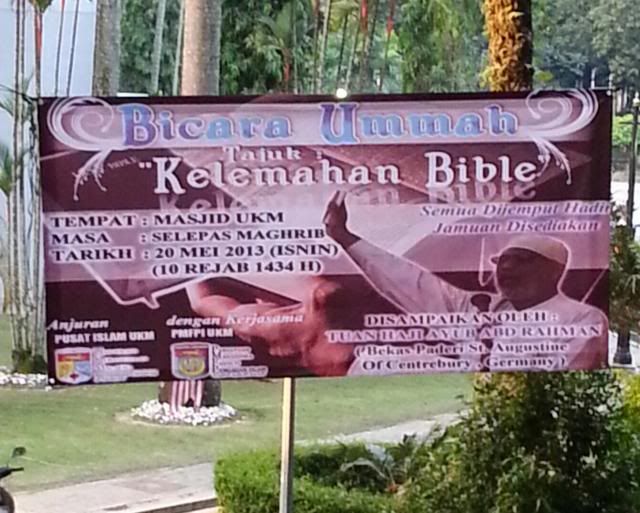 I'm ashamed that our public institution's are organizing such talks , injecting poisonous toxins inside the mind of young graduates. Until all Malaysians are brave enough to stand up for each other demanding and rejecting this kind of racial and religious discrimination, let us all wear kaili, sit at home and watch Sindhu Bhairavi.