I've written about many issues in this blog, highlighting crime and social issues which are plaguing our community today. The vast majority of young Indian boys are now getting involved in gangs, some of them without knowing what they're getting themselves into…
Last week, netizens were busy sharing a video clip showing a 33 year old man writhing in pain after being slashed up without mercy by rival gang members. Look around you, you will know where our boys are going nowadays. Take a look at numerous funeral of Indian boys, the deceased friends would proudly be displaying gang flags and symbols  in their parade.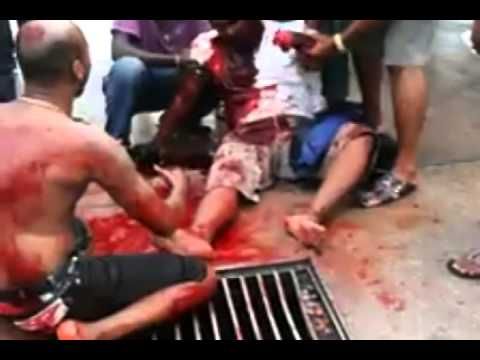 Young boys nowadays are even more dangerous than other organized crimes in this country. They act emotionally, without knowing the consequences.
It's been years since I've ever been to club, but due to invitation by very close friends; I walked in to an Indian club in Changkat recently. Young Machas were dancing their heart out, and the crowd looked fairly decent. After a few rounds, I wanted to dance. While dancing, I accidentally (I repeat ACCIDENTALY) stepped on one of the Indian guy shoe who was dancing there. I quickly smiled at him, shaked his hand, tapped his shoulder and said 'Sorry bro, silap'. He looked at me with no emotion. I retreated (chinne payen kitte adi vangge venamene) and went back to my table . From that moment onwards, he and his team mates started the staring game. Though I was well protected, my friend thought it was no longer safe for me to be there and we left.
See how such a small incident can tick them off so badly…
Some of the young Machas are so fucking retarded that they will start a fight for ramming your motorbike.  I remember just a few months back, a young guy suddenly blocked a couple of small boys right in front of my house. Similar conversation happened…
Dei punde , yen vitte mineke motor yenda murukene? Innore thadave murukene munje pundeye odechereven..

Dei punde, why did you ram your bike in front of my house?  Another time you do that I will break your face.
Machas are the only creatures left on earth who will fight because someone rammed their bike in the street. Motor ke porenthevena irupanegeh poleh..

Look at the recent Klang Utama incident. An accident happened, a young Malay chap and few Indian boys had verbal argument.In the end, the Indian guys slashed the Malay guy in an attempt to kill him. According to my sister in law who treated him, the guy was slashed so bad in both his hands that it can hardly be used anymore. He was also slashed twice in his head, fortunately he survived.
This spread fast in Facebook and some fools started war against Indians and Malays in Facebook and social networks. The Malay boys came back to seek revenge for their friend and attacked a group of Indian guys in Klang Utama. It can never be denied that there was a certain amount of unrest for the past few days, until the police managed to contain the situation.
The situation sparked off from a small accident. And it led to a major fight involving hundreds of teenagers because of the initial damage done by the Indian boys.

Our Machas are no longer just involved in crime and gangsterism, they're obsessed with it. It has become the way of life. It is their life. Our young boys has become fools who will fight and die for nothing.Violence is their answer for everything.
Let's see how our newly elected politicians are going to address this situation that is plaguing our community today. Until then; stay safe, be safe. It's perfectly fine to be a coward; run when you see trouble and don't get provoked.