I abruptly left and decided to go low.
"Sanjeevan, 29, was shot by assailants at a road junction near his family home in Bahau, Negeri Sembilan.

The memories since that day are hazy, but he remembers the moment his life flashed before his eyes vividly.

"I wound down my window at the junction when I saw a motorcycle behind me with two Indian fellows on it.

"In my rearview mirror I saw the pillion rider get off the bike and walk towards me. I saw the gun he pulled out and I thought 'that was it!'
When Sanjeevan was shot, I was out of town. I did not have access to the Internet and the first thing I read when I came back a couple of days later, was that Sanjeevan had been shot.  I've personally received a number of threats, be it through email, Facebook , my blogs, and calls. Of course, I did not really bother. I've always treated it like a joke.
But when the shooting spree started, for no reason I began to feel restless. I got worried about what I do and about my family. Of course, I was paranoid. Whenever I stop my car in traffic lights, I used to distance myself from the car in front; worried that some Machas would pull out a gun.
This is because I know some dumbfucks would prefer to see me in mortuary although I have no connections with them.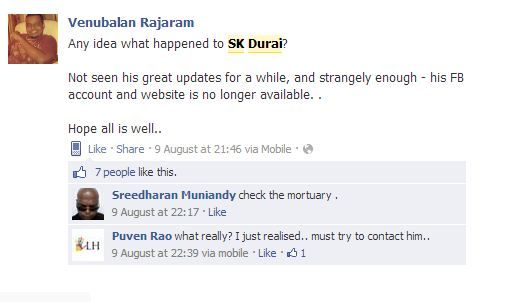 I know I've made my enemies.
 "Asked about a Bukit Aman dossier implicating 30 or so top cops involved with drug kingpins, he said he has no interest in pursuing the matter.

"Why should I? Nobody wants to protect my family.

"Can this country protect me? I think you know the answer. I have done my national service and paid my dues."

There is nothing more this country can ask of Sanjeevan. In his young life he has done more for his nation than many have in their lifetime."
Of course, my blog is well known. A number of people know me. But like Sanjeevan, what is left for us one day? Who's going to even protect me for the shit I do? Ikan bilis mathiri iruken naneh. Uthi utta pothum, 2 weeks admit. Some were even suggesting that I should stop writing about education,corruption,crime, gangs, politics and social issues. But that's the only thing I write about, that is my passion! Then what you want me to write? That my Meenachi polished her fingernails today ah?! The corrupt and the criminals should succumb to us, not the other way around.
Perhaps I got too worried. Perhaps I've stressed myself over a non-existence risk. And the only thing that accompanied me over the past 2 months was news from The Star and some other online sources. And many things affecting the Indian community in particular has happened, from temple demolishment right up to Machas being shot dead like dogs in the streets, to pati tata being chased out of their estates.
When I read mainstream Medias, most of them talk about criminals not getting enough education thus resorting to crime. PhD holding professors knowing little about street justice and crimes are talking about what's going on in a Machas head. Funny uncles. Do anyone really go down to these boys and talk to them what is their need?
And Sai Fund was not moving anywhere, I have no money without the readers. With Ops Cantas dengan pantas cleaning up the country, I received the blessings from the 'brothers' .
I had no idea how much support I had until I left. Feels good to be back…I promise its going to be far more interesting.