When I was around the age of 14, I used to follow a few 'seniors' of mine who was very active in downloading God into their body. There is a Kali temple inside the Klang graveyard, so we used to frequent the temple every now and then. Multiple poojas would be conducted by these self-trained priests, almost all the time screaming hysterically; probably from being possessed by some spirits. Coming to think of it now, it was indeed a horrifying experience; sitting deep inside a temple located inside a graveyard surrounded by multiple Machas with their tongues wiggling out depicting Goddess Kali, staring sharply at you and predicting how my future would be. Once the downloading and drama is over, they would sit down and have a few balut (weed).
All these inside the temple.
Let's go to the recent Muniswarar temple demolition issue.
"Federal Territories Minister Datuk Seri Tengku Adnan Mansor said the priest visited the shrine prior to Deepavali and found only six worshippers.

"The priest went to the toilet, and he found hard liquor stored inside. The priest said that it's a disgrace to his religion," he said today."
First thing first, it's obvious that the temple was not entirely demolished.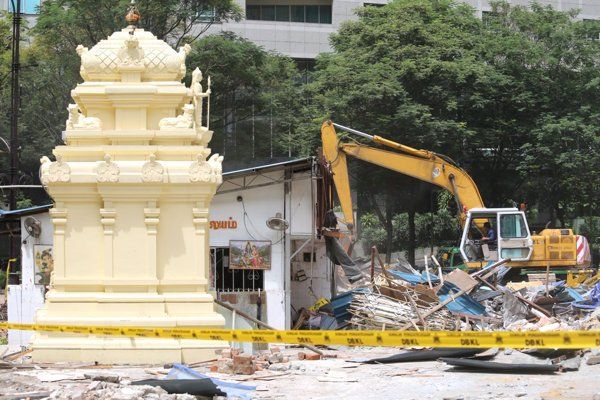 Second, all those muttal Indians who followed Waythamoorty sutte to vote for BN deserve this of course, because you voted them to power thinking that they can be trusted. That Memorandum of Understanding signed by Waythamoorthy is not even worth toilet paper in the eyes of Najib.
Third, let's come to the point. The issue that I wanted to particularly discuss. Tengku Adnan had obviously insulted the Hindus in Malaysia, sparking rage among the Indian community. He was accusing that the temple was keeping liquor inside the toilet and temples are actually being misused.
I was not even surprised. This is the root of all issues. When he mentioned that temples are being misused, it is the truth anyway. I've seen it with my own eyes.
Truth is, while we fight relentlessly to defend our rights as a Hindu in this country, we've failed to realize that we're the ones who are insulting our religion in the first place. We practice things that make us look like a fool in the eyes of others; fuck we don't even have proper guidelines on what to do and what not to do. Malaysian Hindu Sangam is another useless organization, unable to represent Hinduism or even matters related to it.
When Tengku Adnan mentioned that temples were being misused for illegal activities, you don't have to be emotional. You just need to be rational. I don't like UMNO fellows, but truth can't be denied. Think back what's happening in our temples nowadays.
There was an issue a month back during the Qurban festival, where the Hindus were protesting that slaughtering should not be done in schools, and should only be done in slaughterhouse. It seems children's would get affected. I was least bothered. In our own Hindu temples; multiple goats are being sacrificed without mercy and in full view of children's, where the fuck did you go Hindu warriors? Bring la all the goats to slaughter house and do it. People like Tengku Adnan are laughing at us because they know they have a point.
They know they're somewhat right. I'm very confident that the liquor found in the toilet was probably the offerings made to Lord Muniswarar. Muniswarar ungge kitta Johnnie Walker kettarada?
Temples should be used as a learning center for the younger generation. It is supposed to be used to inject moral and spiritual values to kids and adults. Love should be spread equally, and kindness should be shown to all. Instead , we even have temples sacrificing goat every single day. This is bloodbath in temples which our Machas inherit and display it in public to other Machas.
What's the point of defending religion when you're not following whatever values being taught in it? Goes to also almost all PKR and MIC fellows. Chumma padem punde than overah. Organizing big protest it seems.Ningge pandre ulel mayireke yenthe samikude unggele kapathathe.
Still not convinced how Hinduism is being practiced in Malaysia? Here's a video clip. This is supposedly Lord Hanuman. Lord Hanuman being instructed by mere human like a monkey in a circus.
Tell me, who will not laugh at us and destroy our temples?