Seriously, my hands are tied. I just can't type my style when I'm fasting. I'm writing this just so that you're aware of what's happening…
I'm a big fan of Shirdi Sai Baba. I like the man because of his principles and the way he had lived his life. He was a mere fakir, begged for his food and never had any belongings; but he had miraculous healing powers and millions still throng to his 'city' until today because of the great respect they have for him.
The man himself was a legend. He is incomparable.
For the past few years, many cult groups and self-claimed 'mystical' gurus had suddenly sprung up; gathering in thousands of followers and making immense amount of money out of them. Many are even claiming that they're the reincarnation of certain maha avatars…
When I saw these pictures yesterday, I gaped. As if we don't have enough trouble with RPT, here comes another group worshipping another man who is merely a motivational speaker. This man seems to be a devotee of Shirdi Sai, and according to some info's, he runs Banting Sai Baba center. It seems the celebration was done in conjunction with his birthday, but walking on top of flowers with sarekes showering him with flowers, and finally sitting in a throne indicates that this man is up for something else.
This is exactly how RPT began around 20 years back; by duping in smaller number of people, the business was started MLM style. The more people you bring in, the closer you get to the guru. They've grown into such a huge organization with a great number of fanatics and will not hesitate to harm anyone who goes against their guru. There are multiple cases of RPT followers threatening to harm the general public, yet no action had ever been taken against them. The organization seems to have close links with the people in power.
Have a look at the below video, it shows thousands of people that had been programmed to speak as if they're trained dogs. It shows the level of obsession and the feeling of helplessness that had been carefully injected into the minds of the followers by the leaders of RPT organization.
In 2010,
 "PETALING JAYA: The headquarters of Malaysia Hindu Sangam was attacked on Sunday, damaging two vehicles belonging to the president and vice-president.

It is believed the attack could be connected to the recent issue of a self-awareness center alleged to have duped its followers into donating huge sums of money."
It is not a surprise that people are afraid to speak against them. There had been numerous cases of people being threatened, but almost all the victims would not want their identity exposed fearing the repercussions. This happened when a girl shared my article;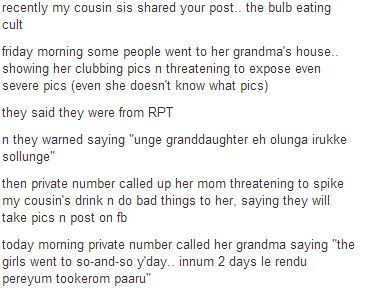 And just yesterday, RPT members had barged into Tamil Malar office to threaten the editors for allegedly writing an article against them.
These shows the aggressiveness of these organizations who would not hesitate to do anything to protect their masters. It is after all a multi-million dollar empire, so it's understandable why they would not hesitate to put down anyone that go against them. It is even scarier to think that these are actually members of meditation groups who are supposed to follow the path of ahimsa(non-violence). Remember Tuhan Harun followers? They are fanatics as well, deviating from the teachings of Islam to man-worshiping. And when they were caught, they decided to gun down the religious officer who caught them.  It is matter of time before these Hinduism related cult organizations decides to do something like that to their enemies.
It's high time that we all do as much as we can to create awareness among the people around us. Local medias are generally useless, these guys would rather wear pavadai and sit at home than to go against this con men fearing the implications. It is in our hands now, please spread the wrongdoings of these organizations in  a massive scale, through your own blogs and social medias. The more we educate , the more we will save.