Had to insert this post in between the Sabarimala posting, because I'm so pissed.
Without a doubt, many issues raised in this blog had always revolved around race, religion, ethnicity and our Indian community here in Malaysia. We're living in a country where there are 3 major races; the Malays, the Chinese and the Indians. Of course, looking at our economical and social status, it's obvious that we're topping the chart in the wrong way. Generally most people have developed some sort of perception against us, the Malaysian Indians.
Negative perception.
Thaipusam this year was marred with only 1 murder, fortunately.
Over the years, our Machas had created a perception that Thaipusam is a festival where gory rituals are conducted and a place for us to freely dance after getting intoxicated. Quite a number of Machas had been involved in all the wrong activities during the spiritual event, and of course since Tamils form the biggest majority here in Malaysia; most of these Machas are usually Tamils.People from other race or religion may view us differently, as what happened recently. An individual named Man Namblast blasted:
Habislah. Malaysian Indians kecoh all over. Of course, our nature is not to admit though these things are actually happening in our festival. Why? Because not ALL Tamils or Indians are actually causing this social nuisance. Only selected few. How can the Malay guy generalize all those climbing the stairs as syaitan?
Tamilan pun angkatlah parang…
Next comes Presana Narayanan. The only Malayalee chick I can quickly recall after Shakila is Presana. All for the wrong reason. Presana made her name through a series of postings in FB, singling out Malaysian Tamils as pariahs and slaves. She subsequently apologized but said her outrage was towards Malaysian Tamils who are always behaving indecently with her. Presana was highlighted all over, fact remains the only thing she was wrong about in her posting was generalizing an entire ethnicity because of the actions of a few Tamils. We, the Tamils in Malaysia were so particular about defending our ethnic and race.
Today, I saw a particular posting from a Tamil woman, clearly discriminating a Sinhalese in her posting. She went to a tailor shop, found out the tailor was Sinhalese; she left. And she posted that"'in Sri Lanka you guys rape women and here you want to make dresses for them?"  What kind of fucking logic is that? You boycott a person because he is Sinhalese?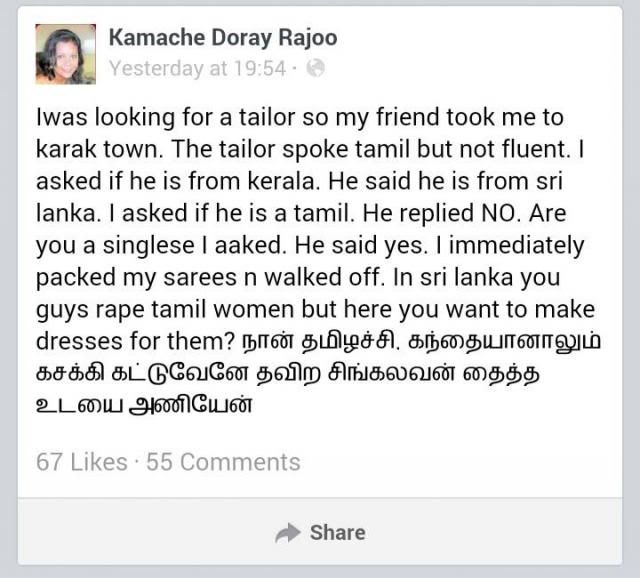 I posted it in my fan page.And then came the most shocking part; the number of people who was actually supporting her.

I felt like I opened a can of worms, so many with so much hatred against the entire Sinhalese people, because Sri Lankan Goverment and Rajapakse killed Tamils there. Of course, I agree. But, dumbfucks, you have to understand that the war was fought between LTTE Captain Prabakaran and Sri Lanka Government headed by Rajapakse. It has nothing to do with civilians or maybe this tailor.
Some argued that they hate all Sinhalese because the Sinhalese did not stand up for the Tamils there. Are you fucking joking? A war is happening with bombs here and there and you expect the Sinhalese civilians to go in the middle of war to defend the Tamils? How come I don't see any of you Tamils here who packed your bags and left to defend them in Sri Lanka? You're supposed to have more passion for the Tamils than the Sinhalese, right? Ninggele sutte mudikitte inggethane irunthingge, aperom yanda inthe bantha pechi.
If what this lady Kamache did was right, then we should be fair. Namblast and Presana was right too. My argument here is very simple. You don't even have to think hard. You just have to use common sense. Use simple logic.
Malaysia is a country where Muslims are a majority. Osama Bin Laden (a Muslim) was accused of masterminding the attack on World Trade Center; which killed a few thousand innocent people. Now, do you run around and accuse every Muslim as terrorist just because Osama blasted World Trade Center? You don't, because you're not a mutta kueh , isn't it? Your hatred should be targeted against Osama, not Muslims. Similarly, the atrocity in Sri Lanka was committed by armies and the Government of Sri Lanka. How can you accuse a Sinhalese who is working as a tailor here for atrocities committed by Rajapakse and his team? Unless the tailor was a convicted criminal, we have no rights to judge him.
I've seen Tamils in Madurai(India) taking a dump in a public place like bus stop. I've seen Tamils eating rat. I've known cases of many Tamilians raping and murdering a girl. Half of you who read this blog are Tamils, can I say all of you eat rat, poop in public, rape and murder girls during your free time? I can't, simply because it doesn't make sense.
There is nothing to argue further here. The lady Kamache is wrong. Her actions were wrong. Boycott with a sense, not blindly. Your cause maybe right, but choose your target wisely. Discrimination of any form is wrong, don't try to justify it.